During Joe Flacco's 11-year career in Baltimore, he put together his fair share of memorable performances. He made big plays and timely ones as he led the Ravens to 106 total wins over that span. And while it's hard to single out exactly which games were his best, DenverBroncos.com asked three long-time Ravens beat writers to try their hand at ranking Flacco's top moments.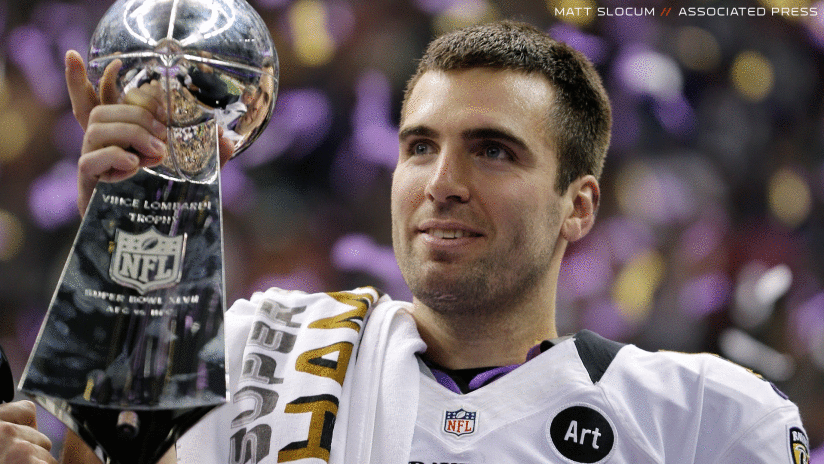 Jeff Zrebiec of "The Athletic," David Ginsburg of the Associated Press and Jamison Hensley of ESPN each present their top five below, and while they didn't all agree on the order, the same games made each of their lists.
We hope to give you a different look at what Flacco has accomplished in his career — and to present an idea of what could come in the future.
"Joe has won over 100 games as a starting quarterback in the NFL and that includes the most road playoff wins in NFL history with seven," John Elway said on March 15. "If we recall, there was one four or five years ago that was pretty painful here in Denver.
"Hopefully we'll have a lot more of those miracles on our side rather than against us."
Editor's note: Some responses have been edited for clarity.
A Sunday night win in the Steel City (Nov. 6, 2011)
Average ranking from beat writers: 4.33
Ginsburg's ranking: 3
Ginsburg's take: "With the Ravens down 20-16, Flacco takes over at his own 8-yard line with 2:24 remaining and throws a game-winning, 26-yard TD to Torrey Smith with 8 seconds left to beat their AFC North rival on the road."
Hensley's ranking: 5
Hensley's take: "He beat the Steelers on a last-minute drive. Flacco drove the Ravens 92 yards for the winning drive against Baltimore's biggest rival. His 26-yard touchdown to Torrey Smith with eight seconds remaining won the game."
Zrebiec's ranking: 5
Zrebiec's take: "Flacco didn't have a great game statistically before a primetime television audience. However, he led a game-winning drive that ended with a 26-yard touchdown pass to Torrey Smith with just eight seconds to play. The drive silenced loud Heinz Field and enhanced Flacco's 'Joe Cool' persona in crunch time."
Taking down Tom (Jan. 20, 2013)
Average ranking from beat writers: 4.0
Ginsburg's ranking: 4
Ginsburg's take: "Pulls Ravens from a 30-21 fourth-quarter deficit, throwing a touchdown with 4:01 left before directing game-winning drive from his own 21-yard line to cap a 389-yard passing performance."
Hensley's ranking: 4
Hensley's take: "Beat Pats in the AFC Championship Game. Flacco wanted the Ravens to be more aggressive, and they put the ball in his hands in the second half. He threw three touchdowns and outplayed Tom Brady in Foxborough."
Zrebiec's ranking: 4
Zrebiec's take: "After challenging head coach John Harbaugh and offensive coordinator Jim Caldwell to open up the offense at halftime, Flacco threw three touchdown passes in a 10-minute span of the second half to lead the Ravens to a comeback victory over the Patriots and a berth in the Super Bowl. Flacco twice out-dueled Tom Brady and the Patriots on their home field in the postseason."
Five for No. 5 (Oct. 12, 2014)
Average ranking from beat writers: 3.67
Ginsburg's ranking: 5
Ginsburg's take: "Guides Ravens to a 38-0 halftime lead and finishes with 5 TD passes, 306 yards, no INTs and a 149.7 QB rating."
Hensley's ranking: 3
Hensley's take: "Won in Tampa Bay. Set a record for the fastest to throw five TDs in a game."
Zrebiec's ranking: 3
Zrebiec's take: "Flacco threw a career-high five touchdown passes and they all came in the first 16 minutes, three seconds of the game. Flacco threw four first-quarter touchdowns passes – two to Torrey Smith, one to Kamar Aiken and one to Michael Campanaro – and he threw his fifth to Steve Smith Sr. just over a minute in the second quarter."
Breaking the Broncos' hearts (Jan. 12, 2013)
Average ranking from beat writers: 1.67
Ginsburg's ranking: 1
Ginsburg's take: "Threw for 331 yards and three TDs with no INTs, including the biggest pass play in Ravens history, the bomb to Jacoby Jones in the final minute of regulation to tie a game that was seemingly lost. The Ravens won in double OT, 38-35."
Hensley's ranking: 2
Hensley's take: "Beat the Broncos in the AFC Divisional playoffs. Threw three TDs of 29 yards or longer, including his most famous pass — the Mile High Miracle."
Zrebiec's ranking: 2
Zrebiec's take: "In frigid conditions and against a really good Broncos team, Flacco didn't make any mistakes, tossing three touchdown passes, including his 70-yard heave to Jacoby Jones that tied the game late in regulation."
Capping an incredible run (Feb. 3, 2013)
Average ranking from beat writers: 1.33
Ginsburg's ranking: 2
Ginsburg's take: "His most notable performance earned him Super Bowl MVP honors for going 22 for 33 for 287 yards and 3 TDs with no INTs."
Hensley's ranking: 1
Hensley's take: "Threw for three touchdowns in a Super Bowl MVP performance. It capped one of the greatest postseason runs for a QB in NFL history."
Zrebiec's ranking: 1
Zrebiec's take: "Flacco claimed Super Bowl MVP honors and wrapped up one of the best postseasons for a quarterback in NFL history by completing 22 of 33 passes for 287 yards, three touchdowns and no interceptions. His performance was exemplified by his decision to audible out of a run call from the Ravens' 45-yard line with just over seven minutes to play and the Ravens clinging to a slim lead. Flacco hit Anquan Boldin for 15 yards and ultimately set up a field goal that proved to be the team's winning points."