Pushing its roster to the 90-player offseason limit, the Denver Broncos on Monday signed offensive lineman Chaz Green, The Denver Post's Ryan O'Halloran reports.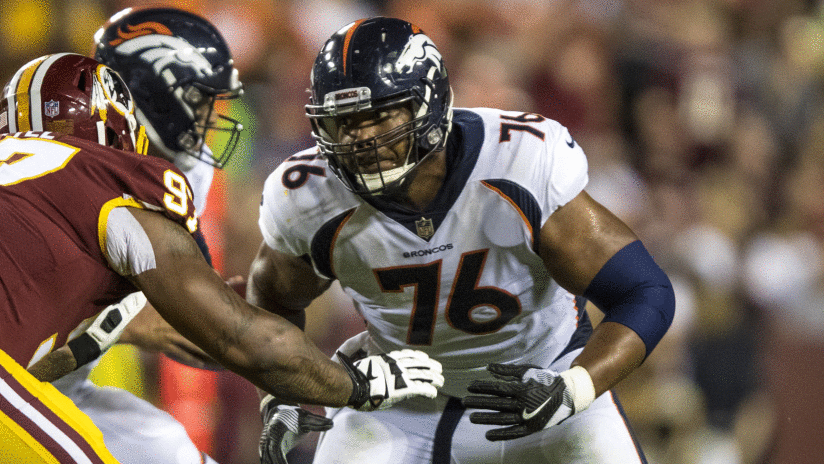 Green (6-5, 318) entered the NFL in 2015 as a third-round draft pick of the Dallas Cowboys. His rookie season was a washout due to a hip injury. The next year, Green was installed as Dallas' backup swing tackle, and he made four appearances, including two starts. In 2017, he continued to function as the direct backup, making four starts and appearing in 14 of 16 games.
After struggling at right tackle last preseason, the Cowboys released Green at final cuts. He latched on with the Saints during the middle of the season before he was waived and claimed by the Oakland Raiders. He started Oakland's Week 15 game against the Green Bay Packers and earned a new contract from the Raiders, who cut him last week.
What's next for the Broncos? Do not miss any breaking news or in-depth analysis! Sign up for our FREE newsletter, and get every breaking story delivered to your inbox!
Capable of manning guard and tackle, Green played his college ball at Florida, where he shuttled between left and right tackle during an injury-plagued tenure. His NFL.com scouting profile gave him a better-than-average change of cracking an NFL roster.
"Heady player with potential position versatility, but lacking an area where he truly excels," wrote Lance Zierlein, who compared Green to former Bengals OT Tanner Hawkinson. "His foot quickness and movement skill will appeal to zone-scheme teams but he must improve his strength and ability in pass protection if he wants to be anything more than a backup.
Green has no shot to start in Denver, as the offensive line, from left to right, essentially is set: Garett Bolles, Dalton Risner, Connor McGovern, Ronald Leary, Ja'Wuan James. He, too, has an uphill battle to crack the 53-man regular season squad, as other backup types (Elijah Wilkinson, Austin Schlottmann, Don Barclay) are further ahead in Mike Munchak's system.
Barclay, who's received first-string reps while Leary eases back from Achilles' surgery, was singled out last month by head coach Vic Fangio.
"He's in the mix there in the O-Line," Fangio said. "He's a veteran player who has played a lot of places, played a lot of football. He's in there competing with everybody."
Green's clearest path to the roster, avoiding another summer pink-slip, likely will go through guard. The uncertainty surrounding Leary's health and Risner's acclimation to the pros leaves Denver fairly vulnerable along the interior, and Green — if nothing else — could serve in the same capacity as Billy Turner and Max Garcia before him.
Green will join the Broncos when they open their three-day mandatory minicamp Tuesday, the final on-field work until training camp in July.