With guard Menelik Watson dealing with another injury in what has been a career filled with them, the Denver Broncos have moved the sixth-year veteran to injured reserve. The team intends to release him once he is cleared medically, a source confirmed to ESPN.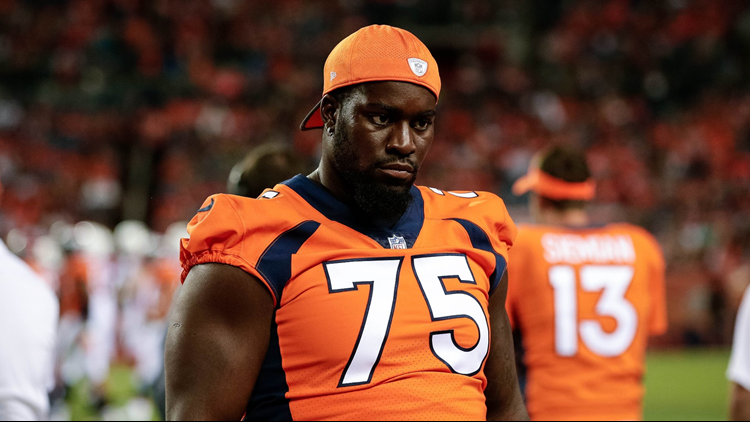 The news of the Broncos' plans was first reported by 9 News.
Watson, who has never played all 16 games in any of his previous five seasons in the league, did not play in either of the Broncos' first two preseason games because of a pectoral injury. He had originally signed a three-year, $18.75 million contract with the Broncos before the 2017 season to be a potential solution at right tackle.
He played in just seven games in 2017, missing nine in all as he went to injured reserve with a foot injury in early November. He had struggled at times when he did play, which prompted a move to guard this offseason after the Broncos made a trade for Jared Veldheer to start at right tackle.
Watson was playing behind Connor McGovern and Max Garcia at guard, with the Broncos also taking a look at Billy Turner and rookie Sam Jones. Watson was sent for an MRI last Thursday, and the results showed he would miss some time, which impacted the Broncos' decision as they approach their third preseason game.
"I'm not that (Watson) wasn't a fit any longer for our football team, but it speaks to the guys who've been playing behind him," coach Vance Joseph said after Monday's practice. "And he's been injured. It's hard to make a football team injured when you've got three or four guys behind you playing good football."
Watson's release will sting the Broncos' bottom line a bit, given his $5.5 million base salary was guaranteed this past March. In all, Watson will count for $6.83 million in "dead" money against the Broncos' cap since the team will release him after June 1.
Watson may not be the only big-ticket contract the Broncos absorb a hit on when the final roster cuts are made. Quarterback Paxton Lynch is currently No. 3 on the depth chart, and his future with the team is cloudy as the Broncos try to make a decision on a backup quarterback.
Lynch has lost the battle for the starting job in the back-to-back training camps in 2016 and 2017 and was demoted to No. 3 last week in his battle with Chad Kelly to be the team's backup this time around.
Lynch would carry a dead money charge of $3.18 million against the cap if he is released. He has a $1.74 million base salary to go with a $2.584 million cap charge for this season, which would make him difficult to trade.
When asked about Lynch's future this past week if he doesn't win the backup job, Broncos president of football operations/general manager John Elway said he would "cross that bridge" later and did not want to deal "in hypotheticals."